There's a saying that Pagans are not people of the book, we are people of the library. I've certainly got a substantial library....that includes a fair number of completely unread books. If I ever win the lottery or otherwise sort out how to get a Pagan temple operating around here, we're going to have an awesome lending library.
All that aside, I want to put more time into taking care of me this year - we started 2011 knowing it was likely to be a complete loss and that proved to be true and then some. One of the things I want to do is read more books, and I've run across several reading challenges that I want to do to try to work on this reading thing. I've got fairly modest plans - just 6 books this year - but given the general level of chaos here, I can't always get the time to myself I want.
I'll be adding to this post as the year progresses, detailing what I've read.
First is from The Domestic Pagan:
My goal there: "Initiate Read 5 -10 books"
Second, Melissa's Eclectic Bookshelf: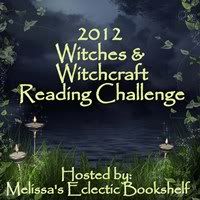 My goal there is "Maiden: Read 6 - 10 Witchy Books" - Melissa is offering a prize based on reviews; I'm not sure I'll write reviews, but we'll see.
And finally, from Magaly over at Pagan Culture:
It looks like my goal there is "Elemental Reader - 4 books"
Hm. I wonder if Pagan kids books count?
Anyway, I'll probably mention books I've read in my updates. Poke me if you want to know what I'm reading and haven't heard much from me lately.